SEEBURG 3W1 JUKEBOX WALLBOX RESTORED - STOCK #5029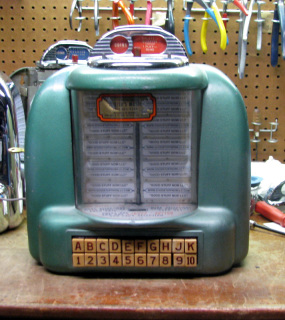 This is SEEBURG 3W1 WALLBOX that was cleaned and the motor tested and in running condition (no binding parts). This wallbox needs a restoration and adjustment and is sold as-is.

The cover is magniseum and ORIGINAL Seafoam green. The buttons were cleaned and buffed. The pages are Silver anodized and complete.

Original Seeburg Lock and key (S-130) are included. This wallbox is presently set to take Quarters (3 plays) and Dimes (1 play). The coin tray (easily replaceable) is not included.