SEEBURG V-3WA-200 - STOCK #5024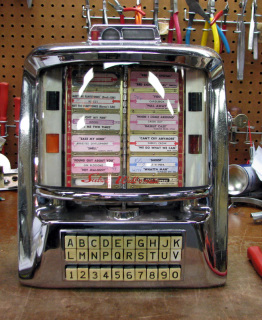 This is an ORIGINAL Seeburg Jukebox Wallbox, Model V-3WA-200. This is an unrestored complete wallbox and sold as is because it will need to be restored before use.

Original Seeburg Lock and Key. Locking mechanism works smoothly.

Complete with coin equipment. The coin mechanism credit unit is a DCU10-L6 which is factory set at 10 cents a single play, 15 cents an EP play, 25 cents three single plays and 25 cents two EP plays.

The cover is original chrome and needs to be cleaned up, polished or replated. It can be upgraded to a replated chrome cover for an additional fee. Original Select-O-Matic glass.

The buttons are original and will clean up nicely. This unit is over a half century old!

The pages stick and need to be adjusted as well as new springs. Coin instruction glass will need to be replaced.

We have over 40 years experience working with Jukeboxes and Wallboxes, specializing in Seeburg and Wurlitzer Jukeboxes and Wallboxes. If you need any help doing your restoration project and I can help I will be available to help you do that.