WURLIZER 5250 WALLBOX (WURLITZER 2100 JUKEBOX) RESTORED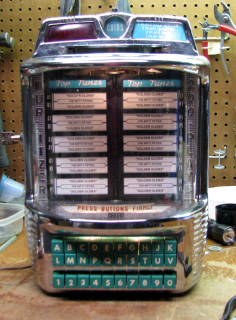 This is a WURLITZER 52500 wallbox, made from 1958-64. It was specifically used with the W2200, 2250, 2300, 2400, 2500, 2600, 2700, 2800 and will also work with any 200 Selection Jukebox. It was thoroughly washed with hot water and degreasing detergent. There is no nicotine residue. The unit has been tested and makes all proper 200 selections. This mechanism works perfectly smooth.

It has been connected to the Data Sync Wallbox Player System and works perfectly. This is the highly sought after wallbox that accepts half dollars, quarters, nickels and dimes. A service manual can be included if you are interested and a pdf file can be emailed to you.

THIS WALLBOX IS ALL ORIGINAL with the exception of the "WURLITZER" AND "200 PLAYS" trim pilasters. These are fabricated and look just like the original but they are made from aluminum and photo images. Most of these trim pieces were removed when they were in service because they would have a tendency to bind the pages. If the winning bidder desires an ORIGINAL set of pilaster trim (both the "WURLITZER and the "200 PLAYS" we can include that for an additional $200 which is the price you would have to pay for a REPRODUCTION set.

The pages have the old style number letter system (A1, B1, C1 etc). We can include a conversion chart and/or a set of stickers with the newer style number letter system (A1, A2, A3). I can also send image files of the title headings (OLD FAVORITES, TOP TUNES, etc) if you would like to print and add these to the pages. These are exact reproductions.

The slug rejector takes all coins (Nickels, Dimes and Quarters and half dollars. It is presently set on ONE PLAY for a nickel, TWO PLAYS for a dime, THREE PLAYS for a quarter and SEVEN PLAYS for a half dollar. I have also wired a FREE PLAY switch so a press of the switch produces a single credit (Nickel). This is outside the wallbox so it is not necessary to open the wallbox to use it. If you do not want it you can disconnect it.

The original chrome cover has slight pitting (overall condition of the chrome is very good) and has GLASS (not plexiglass). The lock is an original WCX lock.

Wurlitzer produced the model 5250 wallbox in 1958 to 1964. As far as wallboxes go, the model 5250 is one of the most collectible.

According to a compilation of serial number databases, the 5250 wallboxes range in serial number from 312297 - 327227, with an estimated production of 10,000 and a known production of 13,692 units. Of these only a handful are known to have survived.